Patrick Del Duca
(1957 – 2020)
An Appreciation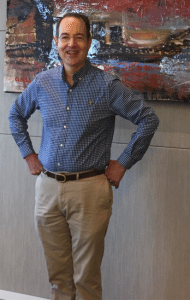 Zuber, Lawler & Del Duca is deeply saddened to announce the passing of our dear friend and colleague Dr. Patrick Del Duca. After a courageous battle with cancer, Patrick passed away on May 28, 2020.
Patrick joined our Firm as a partner in 2008, bringing years of experience and a well-earned reputation as a brilliant and creative international transactional and regulatory attorney. He quickly became involved in nearly every aspect of our Firm's operation – from upgrading our technological capabilities to mentoring new associates and other employees. His patient and genteel demeanor belied a fierce commitment to quality, whether advising clients, reviewing finances or mentoring a rising associate. His contributions were recognized in 2012 when the Firm added his name to ours to become Zuber Lawler & Del Duca LLP.
Patrick was a lawyer's lawyer, and he delighted in the practice of law. His father, Louis Del Duca, was a renowned professor of international law at the Dickinson School of Law at Penn State University. His mother, Frances Del Duca, was among the first wave of trailblazing women attorneys and active in a variety of civic and charitable causes. Patrick followed in their footsteps, viewing the law as a vehicle for service and social progress as well as a learned and evolving profession.
Intellectually curious from a young age, Patrick was, according to his mother, the scholar of the family – "the one who sat in the chair and read the dictionary and the encyclopedia, and he knew every flower and every tree and everything you could possibly know."
He always punched above his weight academically. "When Patrick went to ninth grade," his mother remembered later, "I asked him how it went and he said the teacher made two or three mistakes but he decided not to criticize him." His commitment to learning – and teaching – lasted throughout his life.
A graduate of Harvard College and Harvard Law School, Patrick clerked for Judge Alfred T. Goodwin of the U.S. Court of Appeals for the Ninth Circuit. During his clerkship, he was invited by Chief Justice Warren Burger to apply for a position as a law clerk to Justice Antonio La Pergola of Italy's Corte costituzionale. Having previously spent a year in Italy as a Fulbright Fellow, he was selected for the position, later earning a Ph.D. in law at the European University Institute in Florence and an Italian law degree from the Università di Bologna.
Before joining Zuber Lawler & Del Duca, Patrick practiced at several of the nation's finest firms:  O'Melveny & Myers, Kelley Drye & Warren LLP and Manatt, Phelps & Phillips, LLP. Included in THE BEST LAWYERS IN AMERICA®, 2010-18, his practice focused on corporate, commercial, financial and regulatory challenges across borders and bodies of law. Trained in both common and civil law, he assisted clients doing business in the energy, environmental, financial and other areas, domestically and in Europe and Latin America.
He was active in a wide variety of professional organizations including the Section of International Law of the American Bar Association (ABA), where he served as Membership Officer, Publications Officer, Liaison Officer on the Section's Administration Committee, Co-Chair of the Europe and Mexico Committees and Chair of the Business Law II Division. He was instrumental in formulating the ABA's policy regarding secured lending reform in emerging markets and improvement of legal frameworks for signature verification across borders. He also participated actively in the ABA's Rule of Law Initiative (ROLI), the Pacific Counsel on International Policy and the Lawyers Associated Worldwide (LAW) network, where he forged warm friendships with attorneys from around the world.
Patrick was an adjunct professor at UCLA Law School, where he taught International Finance. He was the co-editor, translator and a contributor of Mexico and Its Legal System: Lawyers' Essays on the Continuing Evolution, American Bar Association/Carolina Academic Press, 2018. He is the author of Choosing the Language of Transnational Deals: Practicalities, Policy and Law Reform, a book published by the American Bar Association. Fluent in five languages, he traveled extensively and was a passionate advocate for cultural education and international cooperation.
At Zuber Lawler & Del Duca, Patrick took the lead in establishing our Visiting Foreign Attorney Program, through which practicing attorneys from a host of foreign jurisdictions are invited to join our Firm for periods of up to a year to experience the practice of law in the United States and develop a keener sense of the American legal system. Several of our current attorneys are graduates of this program, ultimately choosing to relocate to the United States, earn admission to the New York or California bars and build on their preexisting relationships with residents of their native countries.
Patrick is survived by his wife, Maria-Grazia Ascenzi Del Duca; their son, Zachary; his mother, Frances; his sister, Maureen; and his brother, Kevin.
Patrick leaves an indelible imprint on our Firm and on everyone here who knew and worked with him. He will be remembered as a gifted teacher, a generous mentor, a skilled attorney and a wonderful friend. Zuber Lawler & Del Duca LLP would not be the firm it is today if Patrick had not joined our nascent little shop 12 years ago. He will be sorely missed.
In lieu of flowers, Patrick's family suggests that those wishing to honor Patrick's memory consider a gift to the Patrick Del Duca Memorial Fund established by the American Bar Association's International Law Section. Patrick was active in the Section for many years, and this fund will support international law students who are pursuing a career in international law. For more information, or to make a donation, please visit the Patrick Del Duca Memorial Fund Website.