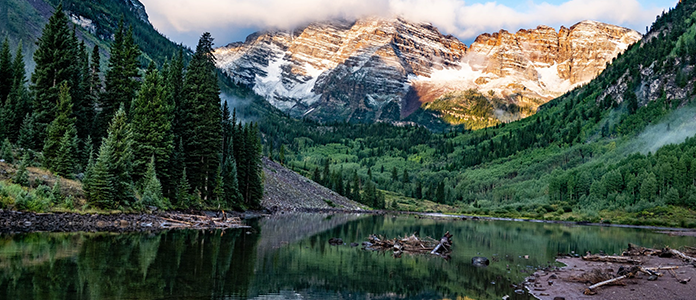 Two Psychedelics Initiatives May Hit the Colorado November Ballot
July 29, 2022 | Psychedelics Law Updates
By: Associate Lizzie Fanckboner
In 2019, Denver passed Ordinance 301, making it the first city in the US to decriminalize psilocybin-containing mushrooms. While the ordinance did not legalize psilocybin, it set out to "deprioritize, to the greatest extent possible" criminal penalties imposed by the City and County of Denver "for the personal use and personal possession of psilocybin mushrooms" by persons 21 years of age or older.
Now, Coloradans may encounter two ballot measures addressing the decriminalization and regulation of certain psychedelics this November – Initiative 58 and Initiative 61.
Initiative 58, also called the "Natural Medicine Health Act of 2022" (NMHA), proposes to establish a state-regulated therapeutic system for safe, facilitated access to natural psychedelic medicine. Behind the initiative is Natural Medicine Colorado, a campaign backed by the national New Approach PAC. If Initiative 58 passes in November, Colorado might be the second state, behind Oregon, to pass a state-regulated program designed to provide access to psilocybin and specifically in Colorado, potentially other natural medicines.
Under the proposal, there would be a staggered or two-tiered approach, where initially only psilocybin and psilocin use will be allowed at licensed healing centers, at least until June 1, 2026. After which, the program may be expanded to include one or more of the following natural medicines: dimethyltryptamine (DMT), ibogaine, and mescaline (not derived from peyote).
The Department of Regulatory Agencies would be the governing regulatory authority to oversee the program. In consultation with the Natural Medicine Advisory Board, the Department of Regulatory Agencies would ultimately be responsible for adopting rules and regulating the manufacture, cultivation, testing, storage, transfer, transport, delivery, sale, and purchase of natural medicines. The NMHA contemplates two license types – a facilitator and a healing center. However, the initiative opens the door for the regulators to create and issue any additional types of licenses and registrations that it deems necessary to carry out the regulated natural medicine access program.
While the proposal would not create a retail or consumer market, as many are perhaps familiar with in the cannabis industry, the NMHA envisions that some natural medicine services may be provided at healthcare facilities and private residences. Therefore, a person would not be able to visit a storefront business and purchase psilocybin mushrooms or other natural medicines, rather, NMHA would create a program for the supervised therapeutic use of natural medicines.
The proposal would also remove criminal penalties for the personal use of natural medicine for persons 21 years of age or older. The NMHA defines "personal use" as meaning the possession, use, cultivation, and sharing of natural medicine (psilocybin, psilocin, ibogaine, mescaline (not derived from peyote), and DMT). This does not include a sales component, meaning, a person may possess, use, cultivate and share natural medicine, but they cannot sell natural medicine.  In addition, the NMHA provides that any person who has completed their sentence for a conviction related to an offense made legal under the NMHA would be able to file a petition with the trial court that entered the judgment to seal the record of conviction at no cost. So long as there is no objection from the district attorney, the court would need to automatically seal that record.
In sum, the NMHA proposes a regulated natural medicine access program that would permit adults, 21 years of age and older, to visit a licensed healing center and receive treatments under the guidance of a trained and licensed facilitator. Further, it would legalize natural medicine and provide an avenue for persons with past convictions for acts that would be legal under the NMHA to seal their records.
A competing one-page proposal, Initiative 61, the "Legal Possession and Use of Entheogenic Plants and Fungi" led by Decriminalize Nature Colorado, would decriminalize the personal use of certain "entheogenic plants and fungi," for persons 21 years of age or older, including psilocybin, psilocin, ibogaine, mescaline, and dimethyltryptamine (DMT). Initiative 61 does not contemplate a commercial or regulatory program for plant medicine, rather it explicitly states that the initiative should not be interpreted to allow a person to distribute or sell entheogenic plants or fungi for remuneration as part of a business promotion or other commercial activity.
Both Initiative 58 and Initiative 61 must be submitted to the Colorado Secretary of State by August 8, 2022, for the petition and signatures to be reviewed and verified. As of the end of June 2022, Natural Medicine Colorado, the campaign behind Initiative 58, submitted a petition with 222,648 signatures for review and verification and the Secretary of State's office announced on July 21, 2022, that the campaign had successfully qualified the measure for the ballot. The proponents of Initiative 61 are still in the process of collecting signatures.