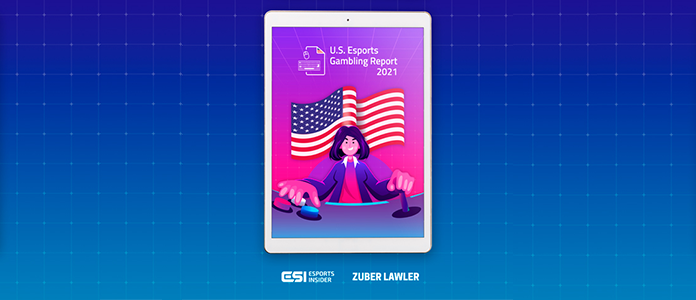 Zuber Lawler and Esports Insider Launch U.S. Esports Gambling Report
June 29, 2022 | Press
Esports Insider and law firm Zuber Lawler have collaborated to launch the U.S. Esports Gambling Report, a white paper that provides a detailed snapshot and overview into esports betting regulation developments through the end of 2021.
The report, available on ESI Marketplace, meticulously runs through each U.S. state's current esports betting legislation (accurate as of the end of 2021), highlighting state laws and their position on esports and sports betting. There's a sample report available free of charge, and the far more comprehensive paid report is available too.
Jason Chung, Counsel Esports, Zuber Lawler commented: "This white paper and its national scale was necessary to demonstrate the complexity of the US esports gambling landscape.  As the comprehensive review of specific esports gambling regimes across the country, we hope that this report provides readers with the foundational background and information necessary to explore new potential markets."
Alongside Esports Insider and Zuber Lawler, the report also features opinions from industry leaders and key stakeholders such as Martin Lycka (Entain), Hai Ng (Esports Integrity Commission), Marek Suchar (Oddin), William Thornton (GRID Esports), Dr. Brett Abarbanel (UNLV International Gaming Institute) and Peter Zhalau (Livestream Gaming LTD). 
The experts were asked a range of questions regarding the state of esports betting in the U.S. This included topics such as the growth of the sector, the market's potential, and the importance of regulation of esports betting in the U.S to their respective businesses.
Chung added: "Expert voices representing diverse types of stakeholders in the esports ecosystem were selected by ESI and Zuber Lawler to comment on this report, including operators, data providers and academia.  We believe they provide invaluable and independent insight for readers into the viability and scale of the future esports gambling growth in current and potential future regimes."
The U.S. Esports Gambling Report 2021 has been created to provide a comprehensive overview of esports gambling from a legal and regulatory perspective. The hope is that instead of just talking about the prospects of esports gambling, this report can deliver an understanding of its business opportunities.
Esports Insider and Zuber Lawler's free version will include an introduction, the industry thoughts section, as well as a snippet of the report's U.S. state esports betting breakdown. 
Included in every state breakdown is a spotlight on that region — offering a comprehensive view of its history within the gambling sector, the current state of legislative affairs, and details regarding the state's taxation legislation for gambling businesses and winnings.
As esports betting regulation in the US continues to change, it's imperative that reports remain on top of all legislations. As such, both Zuber Lawer and ESI will continue to create a collaborative annual report to ensure that those in and around the scene are up to date and properly informed.
To conclude Esports Insider's Managing Director Sam Cooke, commented: "Esports Insider was somewhat born out of the gambling industry, in that our majority owner is Sport Global, which is the company behind the SBC brands and companies, who run gambling industry B2B media and events. As such we have kept, and continue to keep, close tabs on the evolution of the esports betting space, and regularly cover it across the site, including via our esports betting focused newsletter In Play."We were very happy to have the chance to work with Zuber Lawler to co-produce this report, and hope that it serves the industry well! My personal thanks too to all of our stakeholder contributors."