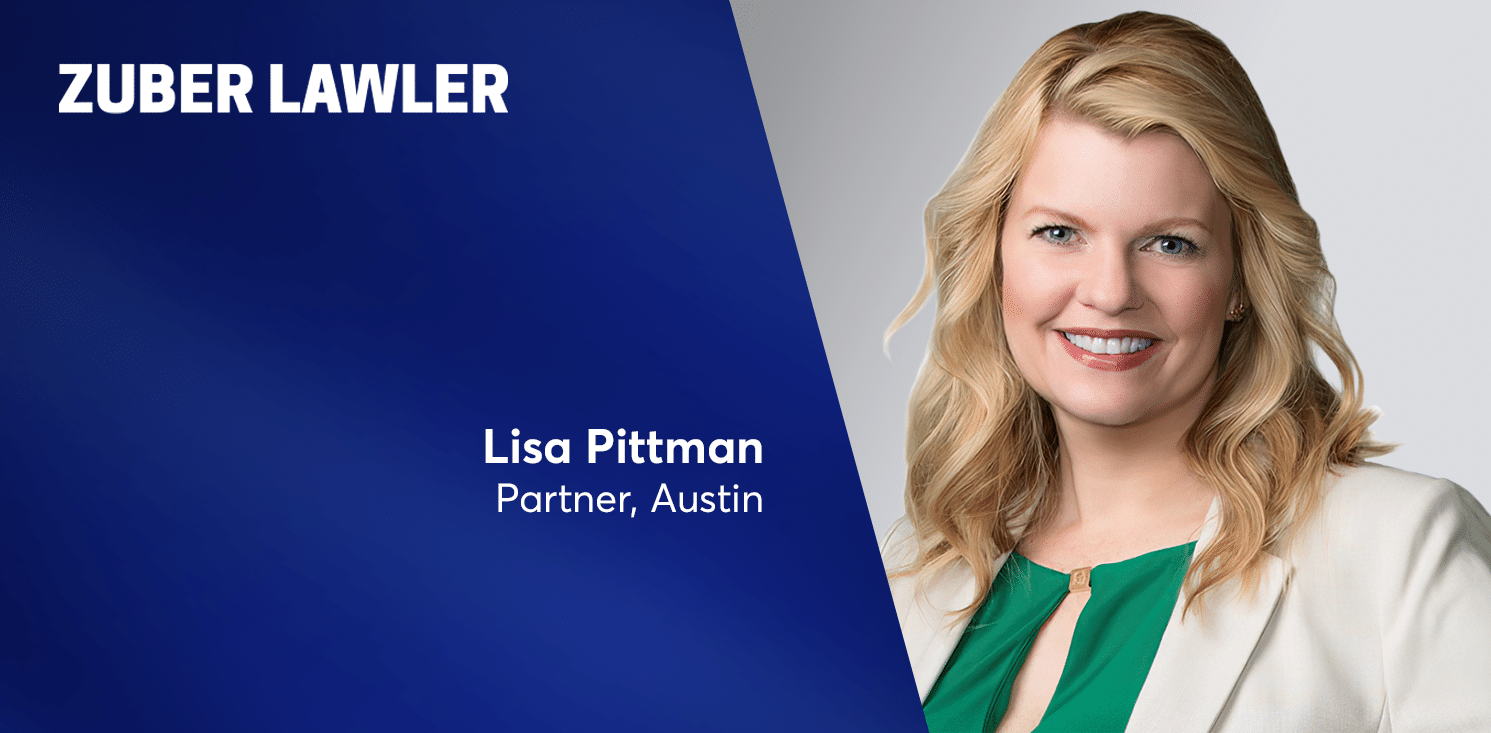 Zuber Lawler Welcomes Pioneering Cannabis Attorney Lisa Pittman as a Partner in its Austin Office
April 15, 2021 | US Law Updates
Zuber Lawler gratefully announces the addition of Partner Lisa Pittman, an Austin-based litigator and pioneering figure in the emerging legalized hemp/cannabis industry in Texas. "Lisa Pittman is a highly accomplished litigator and regulatory attorney, and a pioneering figure in the emerging hemp/cannabis industry in Texas," says Managing Partner Tom Zuber. "As far as I can tell, Ms. Pittman is quite simply the most talented and connected cannabis attorney in Texas, which is setting itself up as a state of primary focus as it continues its movement toward increasing legalization of  cannabis."
Lisa Pittman focuses on litigation and regulatory compliance. Throughout Ms. Pittman's 20-year career, she has litigated and tried disputes relating to labor & employment, breach of contract, commercial banking, fraud, fiduciary duty, construction defect and injury, deceptive trade practices, premises liability, professional liability, and products liability. She also possesses extensive expertise in complex commercial insurance coverage matters, having both defended insurance companies and advocated for policy holders in commercial property, residential property, and life insurance matters.
Ms. Pittman is a pioneering figure in the emerging legalized hemp/cannabis industry in Texas. From her participation in the nascent cannabis industry, Ms. Pittman has represented a broad range of clients from investors to ancillary service and product providers to "plant touching" companies — farmers, processors, manufacturers, laboratories, distributors, and retailers. Some of these clients have now expanded into other countries. In pursuit of becoming an authority in this area, she understands the many challenges facing marijuana and hemp businesses, such as tax, banking, insurance, and regulatory compliance issues, and she has grown a vast network of experts to assist in these areas. Ms. Pittman keeps abreast of the constantly evolving laws, news, and deals occurring in the cannabis industry internationally on a daily basis. 
Ms. Pittman is an appointee to the Texas Department of Agriculture's Industrial Hemp Advisory Council.  She is also a non-resident fellow of the Drug Policy Program at Rice University's Baker Institute for Public Policy.  Ms. Pittman presented the American Bar Association's first marijuana law CLE at its annual meeting in New York City in 2017, resulting in the creation of a Task Force on Cannabis Law and Policy, and she is the Chair-Elect of the American Bar Association's Cannabis Law & Policy Committee for 2021-2022.
Ms. Pittman is also a certified mediator and arbitrator and she is admitted in Colorado and Texas.
Ms. Pittman earned her J.D. from the University of Houston Law Center, where she graduated in the of 1/3 of her class, and her B.A. from the University of Texas at Austin.